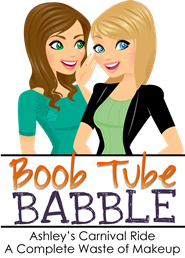 Happy Friday, Y'all! Today I'm linking back up with Neely at
A Complete Waste of Makeup

and Ashley at
Ashley's Carnival Ride for "Boob Tube Babble".


For those of you that know me personally, you know I love me some t.v...the trashier the better. This is my favorite time of year as my summer guilty pleasures are coming to an end and we await where we left off on our favorites and are hopeful about the new crop of shows. So, let's start off with a couple of finales this week...




Yes, I know this show is ri-dic, but I can't help but get wrapped up in the fake "reality" of it all. My lovely DVR managed to cut off the end, but thanks to the internet, I quickly learned who won...my dear Stagliano and Holly. Okay, and how about Holly already being engaged to Blake the Snake? Haven't they known each other for about 15 minutes? Poor Stagliano...had to watch his ex-fiance "fall in love" with another guy. And let me tell you...I'm completely over (or was never into) the Vienna, Kasey, Jake love triangle. Those three have to be the most annoying people on the face of the Bachelor planet. They make Erica Rose look pretty normal. Check out
Lincee
's blog for a better recap. I can't do it justice like she does!
I have to say, "Big Brother" is what gets me through the summer. Since television is more than lacking during these dog days, the fact that this show comes on 3 nights a week doesn't bother me at all (wish I could say the same thing about "American Idol" and "DWTS"). I look forward to sitting down with my glass of wine every Thursday to see Julie Chen's smiling face and to hear which of my beloved got "evicted". This season, not only did CBS bring in a new cast of characters, they also brought back some All-stars. Of course I could not have been happier to see Jeff & Jordan back in the house, but I almost vomited when I saw Rachel & Brenden come barreling through the door. BUT, to my surprise, Rachel wasn't nearly as annoying once Brenden left the house. And I have to reluctantly say that she played a GREAT game and deserved every penny of the grand prize! And kudos to Jeff for being "America's Favorite Houseguest"!
Now on to my fall tv line up...
I love Rachel Bilson and I've missed her ever since the "OC" went off the air. And being that this takes place in the south, I'm sure to enjoy it (or be super annoyed by the fake accents).
I'm rather intrigued by this show. Even though Christina Ricci is the only actress in it that I know, I'm excited to see the portrayal of flight attendants during the 60's. From the previews, I'm already in L-O-V-E with the costumes and am looking for a Halloween party to attend so that I can be a Pan Am flight attendant for Halloween!
Simon Cowell is a reality tv genius and I cannot wait to see what he has up his sleeve on the "X Factor". And I'm even more excited to see his train wreck of a co-judge, Paula Abdul, on the small screen again! Woo Hoo!
A couple other I might give a try..."Up All Night" (Christina Applegate), "Suburgatory", "Revenge", and "Smash" (Kathrine McPhee & Debra Messing). As you can tell, my DVR is about to be on overload. Good thing I have a tv in front of my elliptical machine!
xoxo,