Happy Friday Everyone! Today I'm linking up with
Neely
again at A Complete Waste of Make up for Boob Tube Babble!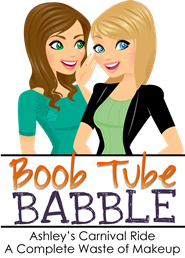 Well, we had a non-eventful weekend last week, so I was able to catch up on my DVR between college football games. So, here's what I'm digging this week:
Like Neely, I'm totally into Revenge! I love how it has Rebecca from Brother & Sisters (oh how I miss that show)! She's so vindictive, but I love every second of it since she's getting justice for her family. And the scenery in the Hamptons is absolutely gorgeous (Greg, we need a summer home there...ha ha).
I'm still totally liking this show, but I have to say, I lost confidence in it this week. We found which 16 contestants would be competing in the live shows. And I totally disagree with a couple of their choices.
Exhibit A- Dexter Haygood
This guy is a trainwreck...and a one trick pony. "James Brown" will only get you so far in life and the competition. I honestly think Nicole was afraid he'd go off the deep end and drown himself in her pool if she didn't pick him. We'll see how long he stays.
Exhibit B- Simone Battle
This girl is the cockiest diva I have ever seen. Not sure who she thinks she is, but she's not nearly as good as she thinks she is (Sweetie, you are no Beyonce). Here's hoping she gets a dose of reality soon enough.
And poor Caitlyn Koch got robbed. Not only is she gorgeous and athletic, she sings amazingly! I still cannot believe Simon kept Simone over her!
Right now, my money's on Stacy Francis, Drew Ryniewics, and Josh Krajcik. All amazing talents!!
And finally, I watched the season finale of Most Elligible Dallas this week. Greg absolutely hates this show, but to be honest, I think it's my guilty pleasure. I spent the whole season completely annoyed with Courtney & Matt, but then (spoiler alert), when they finally got together, my heart melted. How sweet are they to each other...and further more, they deserve each other. Can't wait to see what happens next season with Tara and Jody, the cheating deejay.
Well, I hope everyone has a fabulous weekend! Until next time...
xoxo,